CNSI Launches Glove Recycling Initiative
November 21, 2022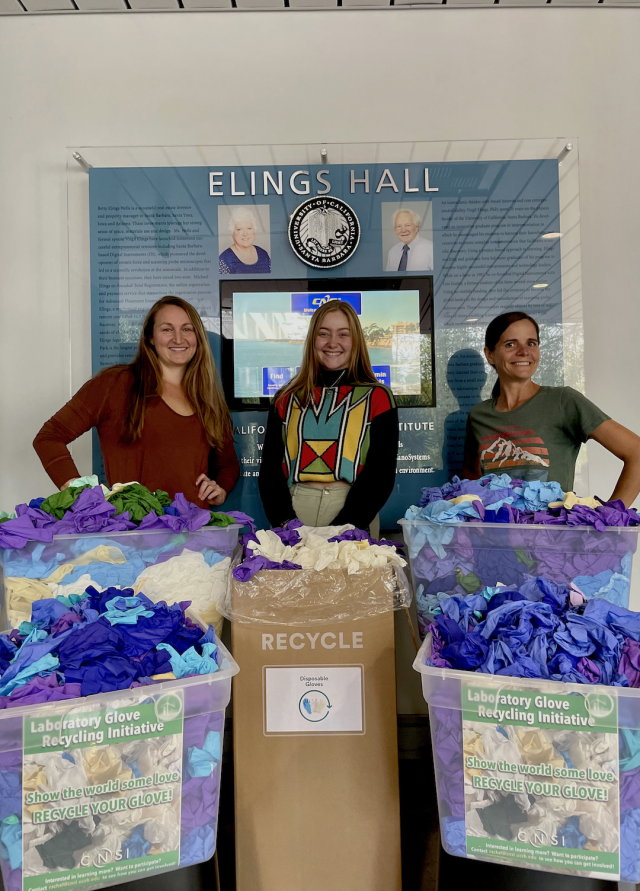 CNSI has launched The Laboratory Glove Recycling Initiative, a program aimed to divert hundreds to thousands of pounds of gloves every year from our local landfill. The program collects, consolidates, packages, and ships uncontaminated nitrile, latex, and vinyl gloves for recycling. Rachel Schoeppner, Lab Manager of the Quantum Structures Facility and Confocal Microscope and Spectroscopy Facility, was encouraged to start and organize the program. "One day I was coming out of the lab, looked into the trashcan, and saw 90% of its volume was just gloves… all basically clean, but unable to be reused due to the nature of our work." Even in a low-volume lab, she recognized the environmental impact of long decomposing times and the micro-plastics of the gloves were a huge problem. 
Acknowledging that there were options for recycling old tires and other types of hard-to-breakdown materials, an extensive search began. Eventually, a company that could process this type of plastic for stock materials for other items was discovered. It was also discovered that this type of program had been attempted at other universities, with varying degrees of success. The biggest hurdle was the cost associated with recycling, even if it was the sustainable way forward. An opportunity at UCSB for funding presented itself in The Green Initiative Fund.  
The Green Initiative Fund (TGIF) provides funding for projects that "green" the campus and reduce the University's impact on the environment. TGIF allocates funds to projects that increase the amount of renewable energy used on campus, increase energy efficiency, and reduce the amount of waste created. This initial Laboratory Glove Recycling pilot program and start-up funds were provided by TGIF in April 2022 with 20% matching funds provided by CNSI. The funds will support one year of recycling at the estimated volumes of 20 participating labs. 
The Laboratory Glove Recycling Initiative continues to grow, and there are multiple ways to support it:
Volunteer for the student group that is in charge of collection and dissemination.

Labs can join and participate in collecting gloves.

As the program grows, new sources of funding and support will need to be found. Donate to help smaller labs with limited resources, or to help support the program extend past 12 months. 
To get involved, please email Rachel Schoeppner at rachel@cnsi.ucsb.edu.