Whether you're working with glass, silicon, or something more exotic, we have the tools to help you dice and drill a variety of brittle substrates. We've established procedures to help ensure clean cuts and vias with minimal blowout.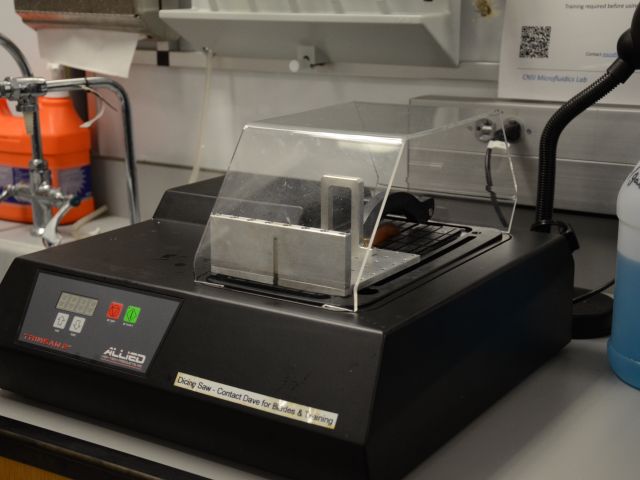 Allied Trimsaw 2
Manual dicing saw with a variety of fixtures for cutting ceramics, such as glass and silicon. Up to 3,000 rpm.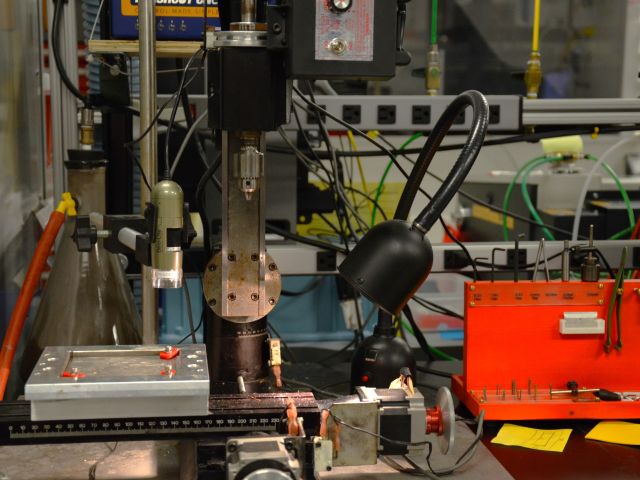 Sherline CNC Diamond Drill
CNC drilling station equipped with FlashCut for making clean holes in ceramic substrates.
How-to Information
Steps to Access the Microfluidics Lab

Contact Microfluidics Lab staff to get trained on the instrument. Completion of a new user orientation and safety briefing is required before obtaining card-key access to the CNSI Workshops. Tool-specific training is required for all tools and instruments in the lab
All users must complete UCSB Environmental Health and Safety's Fundamentals of Laboratory Safety course. The course is offered in person at the beginning of each quarter, and is also available on-line.
Apply to CNSI for electronic door access to the facility.
Microfluidics Lab Staff will add you to the FBS reservation system

Complete instructions regarding access can be found here

Acknowledging Support

Please remember to acknowledge CNSI resources in scientific publications and presentations by including this statement:

"The authors acknowledge the use of the Microfluidics Laboratory within the California NanoSystems Institute, supported by the University of California, Santa Barbara and the University of California, Office of the President."